Termite Control in Broward and Palm Beach Counties
Termites are the most common and destructive wood-consuming pest in Southern Florida. Termites never stop eating the wood they infest, and their colonies grow exponentially the longer they're established. Left unchecked, termite colonies inflict significant structural damage to wooden structures in homes and businesses. If you have even the slightest suspicion that you have a termite problem, contact Petri Pest Control Services for termite treatment ASAP!
Get your personalized quote in a few clicks.
Don't Wait If You See Signs of Termites—Call an Exterminator Today
When termites are established in your home, they can do major damage. They bore through the wood in your home, weakening important structural beams. They can end up costing you thousands in repairs. Because they're so damaging, if you see signs of a termite infestation, call a trusted exterminator immediately. If you get it taken care of early, you can avoid serious structural damage.
Common signs of a termite infestation include:
Termite droppings (called "frass")
Discarded termite wings
Irregularities or defects in paint
Sticky doors and windows
Holes or tunnels in wood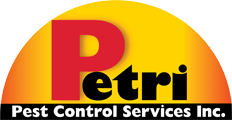 Get an
Instant

Quote Over the Phone
Petri Pest Control gives all customers a FREE initial quote. Fill out the form below to find out how Petri can help you today!
"*" indicates required fields
Our Treatments Suppress & Stop Termite Activity
Treating a termite infestation usually requires a multi-pronged approach. It takes an experienced professional to create a treatment plan that eliminates termites from your home–and keeps them away for good. At Petri Pest, we have over 65 years of experience keeping homes free of termites. Contact us today for a free quote and to learn more about our termite extermination services.
Our Termite Control Services
How can we help you today?
Since we've switched to Petri we have had zero issues with pests. They are the most reliable and the best extermination service we have ever had, and that spans over 50 years of living in south Florida. I highly recommend Petri for top service.
We have been using Petri for about 4 years now and I am very happy with the service. Our technician Marion is amazing. He is extremely thorough and does a fantastic job every time he comes. We greatly appreciate the quality of his work and dedication to getting the job done right.
I highly recommend this company for this service. I had 4 very professional servicemen come and take care of the rodents in my attic. Each of them were on time, thorough, caring and professional. They were Justin, Carlos, Greg and Alonzo. I'm very satisfied with their work.
Serving South Florida since 1956
Termite Treatment in South Florida
Serving Broward County and Palm Beach County
Hollywood | Fort Lauderdale | Pompano Beach | Hallandale Beach | Deerfield Beach | Pembroke Pines | Dania Beach | Plantation | Coral Springs | Coconut Creek | Parkland | Davie | Lighthouse Point | Weston
Boca Raton | Delray Beach | Greenacres | Highland Beach | Lake Worth | Lantana | Wellington